DFP BRUNS SPLICER
Dependable precast splicer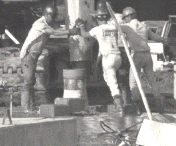 DFP's Bruns Splicer is a proven economical connection for precast concrete piles. There is no cutting or damage to long casting beds. It has been proven by years of use for extending all sizes of precast concrete piles. The Bruns does not require welding, thus speeding the installation. Experiment and observation shows that the stress wave of deep driving is probably never a problem with the Bruns Splicer.
DFP FABRICATIONS
Innovative solutions to your problems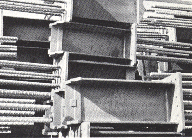 Special pile tips can be fabricated and installed on precast prestressed concrete piles. The tips shown were used in the Military Ocean Terminal in Bayone, New Jersey. They were produced to fit the 24 inch square piles. Epoxy coated rebars were attached to a square plate with cropped corners. The unit was set into the casting form and the prestressing strand was pulled through the drilled holes. Many variations of this idea have been produced. Contact DFP for fabrication solutions.
© Copyright 1997-2001 Pileline Publishing