BRITISH AIR FLYS WITH TAPERTUBE® PILES AT J.F.K.
Tapertube® at British Airways terminal.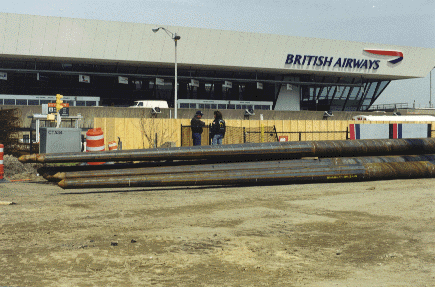 Underpinning & Foundation of Maspeth New York, has selected the new TAPERTUBE® pile for use at the new British Airways Terminal being constructed at John F. Kennedy International Airport located in New York City. After an extensive testing program Underpinning & Foundation received approval from The Port Authority of New York New Jersey to use the new TAPERTUBE pile. The piles were tested to an ultimate capacity of 420 tons at lengths of 50' to 80'. The soil at the site consists of hydraulic fill and organics with granular soil below. This project will use about 1,200 Tapertube piles.
A completed 25 pile cap - Tapertube piles in the foreground.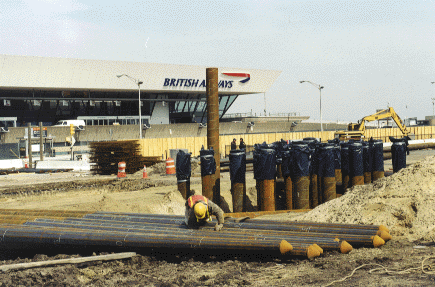 The pile was chosen over another tapered pile for the following reasons:

· TAPERTUBE is produced using 50 ksi steel while the other producer claims to cold work their steel to 50 ksi.

· TAPERTUBES can be produced in much heavier wall thickness such as .312" which was selected for this project. The other available pile is made in gage material only, with a maximum thickness of 3 gage [.239 inch].

Tapertube pile being set into place for driving with the all hydraulic Junttan pile rig.

· TAPERTUBE, for this project, has an 8" tip tapered to 18'' for 25 '. The balance of the pile consists of 18"x .375" wall steel pipe with a 45 ksi yield. The tapered section is designed to directly butt weld to the pipe making a strong smooth joint. This is a vast improvement over the factory made lap weld joint or the difficult field splice necessary for the lighter gauge fluted tapered pile.
· TAPERTUBE piles have been shown to exhibit better driveability, stiffness, compressive strength, resistance to buckling, lower driving stresses and corrosion resistance due to the heavier wall thickness that may be used.
· TAPERTUBE piles flexibility in providing heavier wall thickness eliminates the need for expensive additional steel reinforcement and coatings. This also allows the piles to be driven harder and faster increasing production which means more piles per day at a lower overall installed cost.
100% buttweld between Tapertube and pipe extension.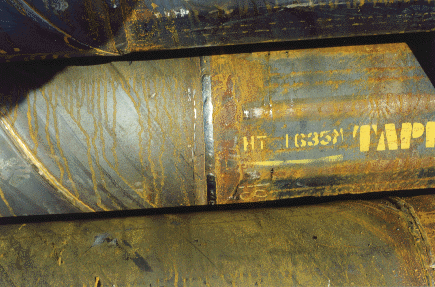 The piles for this project are being driven using a Junttan HHK-7 hydraulic hammer rated at 62,000 foot pounds, this is mounted on a very sophisticated all hydraulic Junttan machine. This equipment comes to the job carried on one trailer and can be set up and ready to drive piles in less than one half hour. The piles were driven with energy reduced to 45,000 foot pounds.
The TAPERTUBE piles for this project are fabricated and being delivered to the site made to the required length to avoid the need for field splicing. These piles can be delivered to the job site in lengths to eighty feet and more. If field splicing is required it may be accomplished using a butt weld or a drive fit pipe splice such as the D.F.P. S-1800 or a weld fit version of the S-1800.
The twelve hundred piles for this job are designed for loads of one hundred twenty tons [120] to one hundred fifty tons [150]. The engineers for the project are Ove Arup & Partners New York City.
Tapertube® is patented and a registered Trademark.
© Copyright 1999-2017 Pileline Publishing