Superior products deigned for timber piles
DFP TP-337
Strong cast steel tip protection for wood piles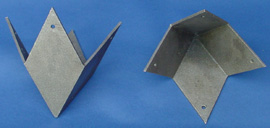 For superior, unequaled Timber Pile tip protection DFP now offers the TP-337 in the popular 5-10 inch tip size made from our high strength TUFLOY™ ASTM A-148 90/60 cast steel. This seamless, one piece hard cutting TP-337 will protect your timber piles from brooming and splitting. Our TP-337 points will help you drive your timber through rubble and other tough conditions without undermining the strength of the pile itself. The TP-337 points provide fast, easy attachment to your pile. Just rough cut a point on the pile and nail the TP-337 in place with spikes. The wings can be bent with a hammer to close tightly on the wood for attaching with two or four spikes. We also can still provide the timber point made in two pieces from tough structural steel in both 5-10 inch and 8-12 inch tip diameters made from either 3/16 inch and 1/4 inch material.
DFP TP-807 Timber Pile Uplift Anchors
Uplift resistant anchors for timber piles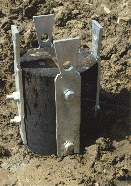 Your timber piles will have dependable uplift resistance with DFP TP-807 cast steel timber pile uplift anchors. Our TP-807 standard timber anchors are made from TUFLOY cast steel (90 ksi tensile, 60 ksi yield) and are galvanized at our foundry for superior corrosion protection. They assemble quickly in the field with just four holes drilled through the piles and rebar added. DFP casts integral teeth into each of the uplift anchors to provide extra 'bite' into the timber pile to provide added load capacity. DFP carries this style of uplift anchor in stock, ready to ship to your job site. The optionally supplied nuts, bolts and washers are also galvanized for additional corrosion protection. These anchors have been proven by field use. They are designed to utilize the full friction potential of the pile.
DFP Uplift Anchor with integrally cast teeth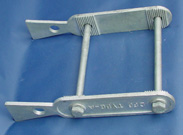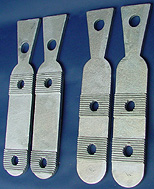 Utilizing the tie-down strength of timber piles can be a cost saving feature for tanks and other structures with bases below maximum high water. Tie-downs are low cost insurance against flotation from area flooding and from overturning forces.
DFP has many uplift anchor designs available, or we can manufacture an uplift anchor that is job specified. Call DFP today for your timber pile point or uplift anchor needs.
© Copyright 1997-2014 Pileline Publishing
Design and layout © Copyright 1997-2014 John J. Dougherty


DFP & TUFLOY are trademarks of John Dougherty